Point Repair of Solution Mining Site in Arizona @ 392 ft deep with SuperLaminate®
Wrap the laminate with an adequate tack coat. Hold on the packer as it is descended down the hole at 392 ft deep. SuperLaminate® can take 600 psi of internal pressure. More holes are point repaired with SuperLaminate®
2019
QuakeWrap founder and FRP pioneer awarded ASCE Life Member status
2019-05-24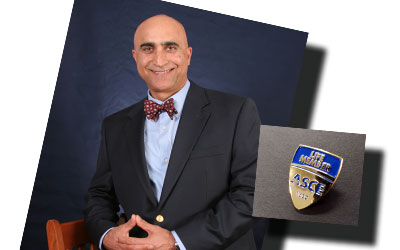 Repair of 12-ft Concrete Tunnel Minneapolis, Minnesota
This design, for a fully-structural retrofit of a 20-foot section of a 12-inch reinforced concrete tunnel, included engineering for 100-psi of external hydrostatic pressure. The design called for layers of StifPipe® to be installed internally by wet layup method.
2019
A pioneer in the application of FRP composites to repair and renew global infrastructure has been awarded Life Member status by the American Society of Civil Engineers (ASCE). Prof. Mo Ehsani, president and CEO of QuakeWrap Inc., is an ASCE Life Member in 2019. The prestigious recognition is awarded to civil engineers who've made a lifetime commitment to ASCE and the civil engineering profession by maintaining an active membership for the full length of their professional career. Mo has been an ASCE member since his days as a young civil engineering student at the University of Michigan, then as a faculty member at the University of Arizona. More information can be found on
the original QuakeWrap news relesase here
.